Custom Baseball T-shirts (Broken to Beautiful OR As Long As You Breathe)
SKU:
001Tee
Width:
24.00 (in)
Height:
24.00 (in)
Depth:
5.00 (in)
Custom Baseball Long Sleeve Shirts - LOVE these year round! Colors: Heather Gray/Navy or Black/White. 3 options:
AS LONG AS YOU BREATHE WINGS LOGO or BROKEN TO BEAUTIFUL LOGO and Two Sided


Raglan Shirt details:
· Fabric: 50/25/25 polyester/combed ringspun cotton/rayon
· Sizes: S, M, L, XL, 2XL
· Unisex sizing
· Sideseamed
· Printed in the USA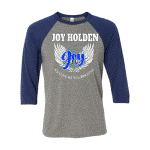 Reviews
I purchased the black and white and it's so comfortable and soft. It's great for my casual wardrobe or anytime especially when I go hear Joy sing!