Press and News
July 24, 2019
Joy Holden Releases New EP, Covered
Spartanburg, SC - Christian singer and musician, Joy Holden, has announced the release of a new EP entitled Covered. This project features some of the industry's most recognized gospel songs, and is so named because it is a mix of "cover" songs. More importantly, she chose this name because it denotes that we are covered by the blood of Jesus. MCR Music stated, "What a fun project and what a joy to hear Joy leaned into her soulful voice on this record." Covered features gospel favorites Through The Fire, I Must Tell Jesus, Oh Happy Day, and others.
Joy has also announced her upcoming appearance at the Annual Harvest Festival at Dollywood on October 26 and 27, for 3 shows a day. This will be her second appearance at the popular event, held every Fall at the Dollywood Theme Park in Pigeon Forge, Tennessee. Joy will be appearing with her two full time background vocalists, Shana Parris and Lisa Pruitt, alongside some top industry musicians.
Of the event Joy said "It was the ministry highlight of 2018! Hopefully we encouraged some folks to turn to Jesus, and we were so blessed by the stories the audience members shared with us after each show."
Joy Holden, an experienced music veteran is bringing her talent and expertise to the Southern Gospel arena. She has been described as a fresh modern sound in Christian music. Pure, rich and soulful, her music inspires through both song and story. She surrounds herself with some of the finest musicians on the scene today, giving her an added performance edge during her live shows.
In other exciting news, Joy's newest release "Under Water" has reached the number 67 spot in the Singing News Top 80 charts for August. This is a huge achievement for the relative newcomer, and shows her growing popularity and accomplishment as a Christian artist.
If you would like to interview Joy Holden contact AG Publicity at info@agpublicity.com.
To purchase As Long As You Breathe OR Covered go to: https://joyholden.com/store/
To connect with Joy Holden just follow her on social media or the website.
To book Joy Holden email at: https://joyholden.com/booking/
July 19, 2019
Joy Holden has been invited to perform at the world famous NQC (National Quartet Convention) in Pigeon Forge, TN at the LeConte Center. Joy Holden Ministries will perform on Friday, Sept. 27, 2019. For ticket and schedule information, please see website. - https://natqc.com/schedule-at-a-glance-2019/#.XTX1xfJJGpo
June 14, 2019
MCR Music announced that Joy Holden charted at #67 with an original song, "Under Water" - this is Joy's first Top 80 song - August 2019 Singing News charts! Congratulations to the Joy Holden Ministries team! Joy stated, "thank you DJs's for this priviledge to share the gospel with others. I am truly honored and humbled."
May 6, 2019
Stomp out Hunger Tour with the fabulous ADAM CRABB - in Upstate SC - Concert, July 12th Gray Court, SC Owings Historic Auditorium
May 1, 2019
Singing News & Dollywood proudly announce JOY HOLDEN will be back for the 2019 Harvest Festival season. You don't want to miss these great shows! Come join the fun with 3 concerts daily on October 26th & 27th! For more info see the website dollywood.com
March 26, 2019
Local drummer extraordinaire passes away, Scotty Hawkins who played on Joy's debut album, As Long As You Breathe, died suddenly while playing a show on March 22, 2019. Our prayers and hearts go out to the Hawkins family. Scotty loved the Lord. Scotty played for legends, Dottie West, T. Graham Brown, Reba McEntire and Brooks & Dunn.
http://goupstate.com/news/20190325/musicians-mourn-mac-arnold-reba-drummer-scotty-hawkins
March 18, 2019
As Long As You Breathe, album - gets a rave review in the famous Southern Rock Magazine - Kudzoo Magazine #31 April 2019 page 45
http://tinyurl.com/kudzoo-issue31
February 1, 2019
Join us February 4th, at 7:00PM Central Time for The Gospel Station Spotlight Show! Featuring The Webster Brothers & Joy Holden with your hosts Mark Huittt, & Tisha Todd!!
January 28, 2019
Heritage Communications, AG Publicity and MCR Music are proud to announce a great new single to radio this week, "Under Water" written by Joy Holden - featuring Valerie Medkiff and Heather Bennett (of Sisters) on background vocals. Go Under the Water and wash away all the pain, shame, and become cleansed - and find your rock of hope and salvation! Listen for the great harp man on the track - Mike Caldwell (Lorretta Lynn, and Music Director Country Tonite Theater, Pigeon Forge, TN).
January 16, 2019
Catch Joy's interview "via live broadcast" on The Living in Harmony Show, with Minister Eddie Boyd, Topeka, Kansas (8PM CST; or 9PM EST) Jan. 16th, 2019
https://www.facebook.com/100000785644222/posts/1988787804490722/
January 5, 2019
Voted 2018 #1 Fan Favorite Artist/Song of the Year by Southern Gospel Times! Including spots at # 12 and #16! Congrats! Thank you fans and Patterson Promotions!
http://www.southerngospeltimes.com/yearendchart.aspx
November/December, 2018
Thank you everyone for an amazing 2018! We want to extend gracious thanks to our Lord and Savior for the blessings and opportunities this past year. People that were saved and inspired by our music - have moved us with overwhelming love and gratitude.
August 24, 2018
Thank you Singing News and Dollywood for inviting us to perform in the 2018 Harvest Fest! We are humbled and excited! Join us for 3 shows each day Oct. 17 & 18. For more details go to dollywood.com
August 10, 2018
Coming in September!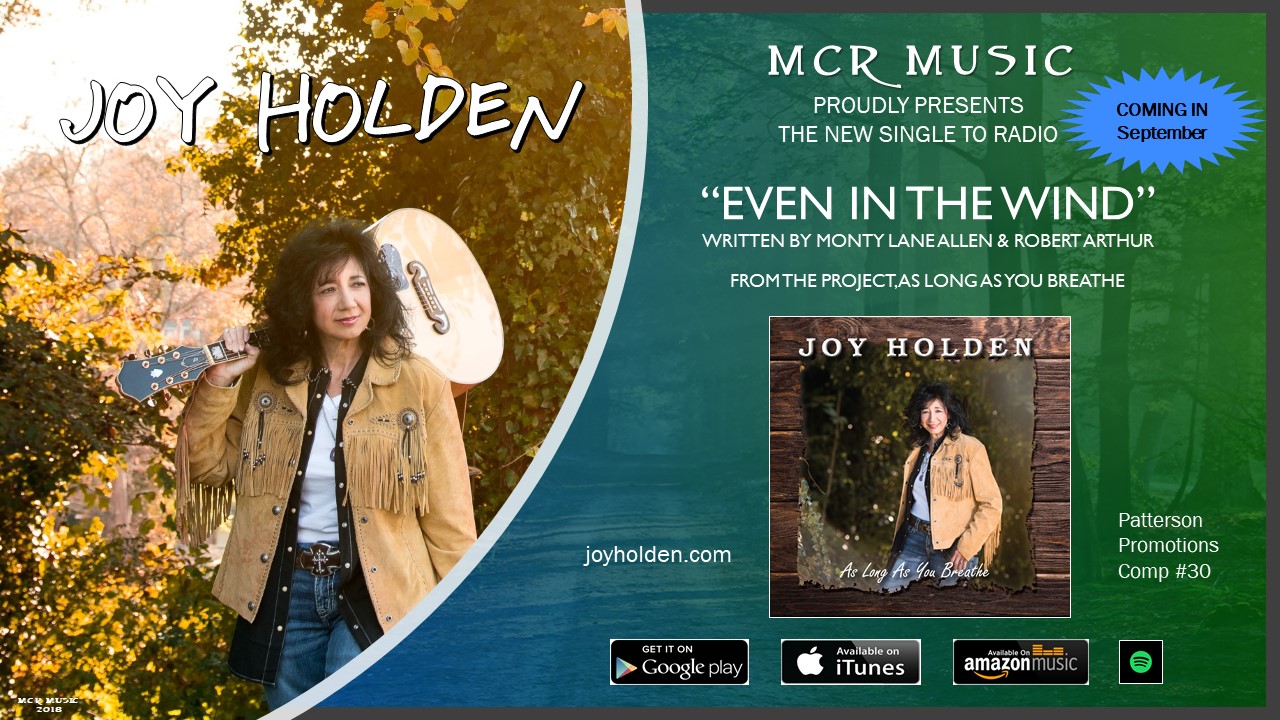 July 30,2018
Number 1 fan voted song, "Sometimes It Takes Silence" which is 100% fan voted charts at Southern Gospel Times has reamined the #1 song, for 9 consecutive weeks! We humbly thank our great fans and are blessed by such sweet support!
In other chart news - "Healer in the House" is about to crack the Top 100 on Singing News Charts; as Joy Holden's, As Long As You Breathe, project, is gaining momentum and support from Christian radio. "We are trying to share the message of God's great love and grace with people through this music. Jesus paid it all and we want people to know him personally." stated Holden, on July 29th.
Hometown CONCERT JULY 18th - Upstate SC, featuring musicians, Jeff Perry on guitar and background vocals, Shana Parris on background vocals, and David Rice on keyboards, violin and saxaphone. See details below:
July 16, 2018
Thanks to a strong grass roots FAN base, JOY HOLDEN's current single, "Sometimes It Takes Silence," reamained #1 on the 100% FAN voted top 40 charts for eight consecutive weeks on Southern Gospel Times. You can vote each week between Sunday and Saturday at midnight on Southern Gospel Times.com. Select Charts/Voting/select 2- 20 artists/submit and you must validate once in your email in box for vote to be counted. We are so appreciative! Also - BIG SHOUT OUT to DJ's playing our music!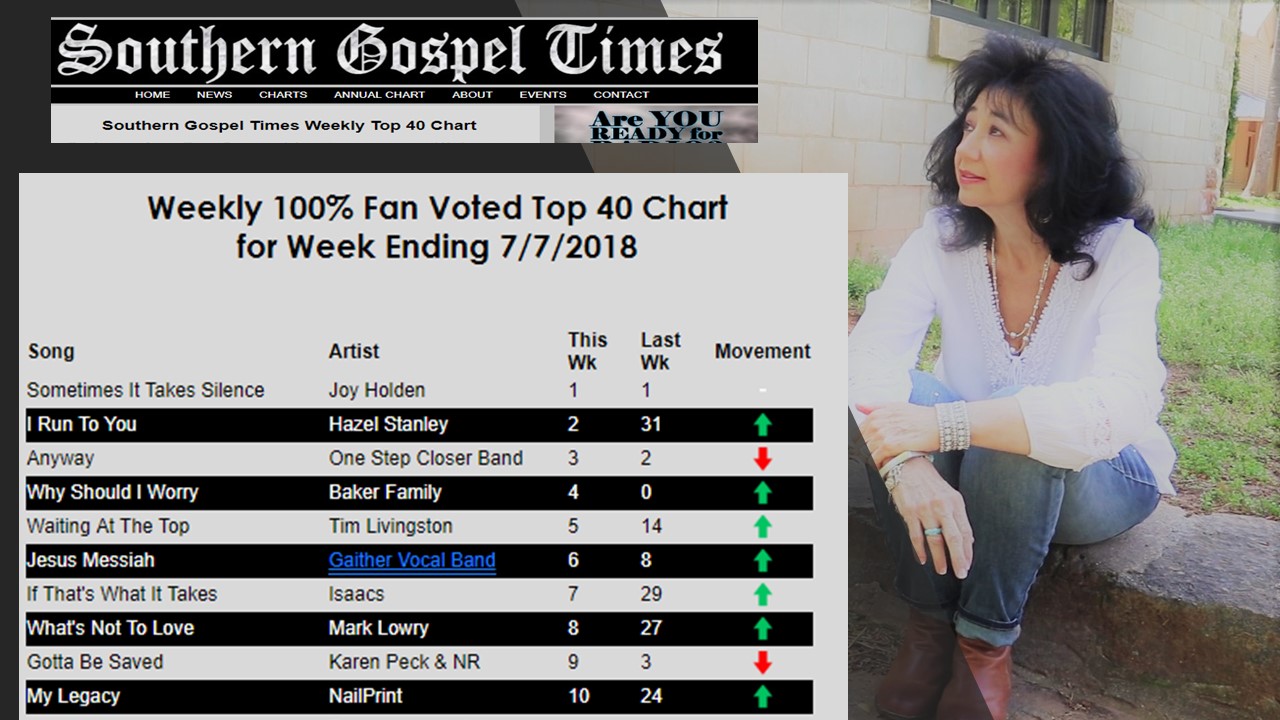 June 25, 2018
God bless our fans and friends with our grass roots ministry to "Meet Me Right Where I Am," Joy Holden's single, "Sometimes It Takes Silence," was #1 on the FAN voted top 40 charts for another consecutive week, week ending June 23 and June 16, 2018 from Southern Gospel Times.
June 10, 2018
Thanks to FAN support, Joy Holden's single, "Sometimes It Takes Silence," was #1 on the FAN voted top 40 charts for a consecutive week, week ending June 9, 2018 from Southern Gospel Times. To God be the glory.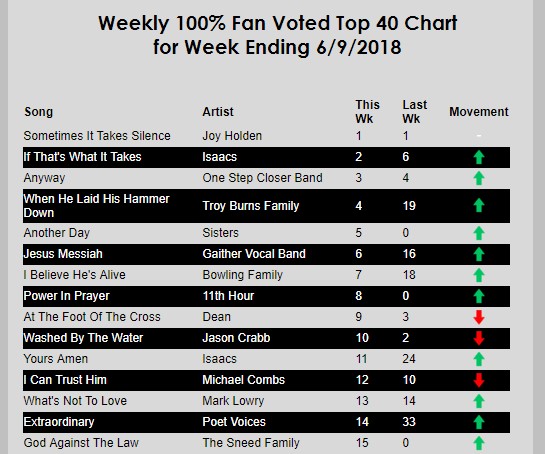 June 3, 2018
Joy Holden's new single, "Sometimes It Takes Silence," is Number 1 on the FAN VOTED Top-40 Charts for week ending June 2, 2018 from Southern Gospel Times. Congrats!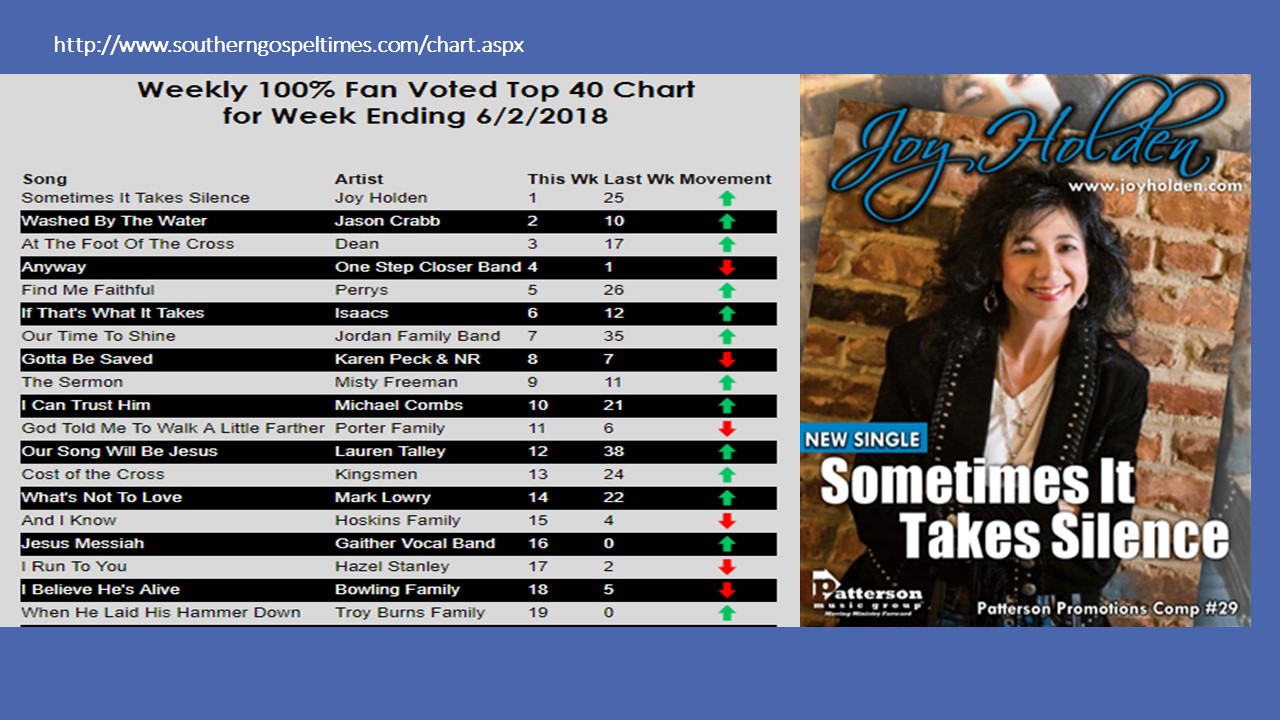 May 19, 2018
Joy Holden ranked 3rd on the TOP 40 Charts for "Sometimes It Takes Silence" and 4th for "Healer In The House" on the 100% FAN VOTED TOP 40 Chart according to Southern Gospel Times. http://www.southerngospeltimes.com/chart.aspx
May 4, 2018
http://www.hallels.com/articles/19310/20180504/joy-holden-releases-sometimes-it-takes-silence-music-video.htm
May 1, 2018
JOY HOLDEN releases new video, Sometimes It Takes Silence http://www.absolutelygospel.com/agm/2018/05/01/joy-holden-releases-sometimes-it-takes-silence-music-video/
April 27, 2018
Single Released to Christian Radio, Sometimes It Takes Silence
NEW VIDEO PREMIER COMING MAY 1st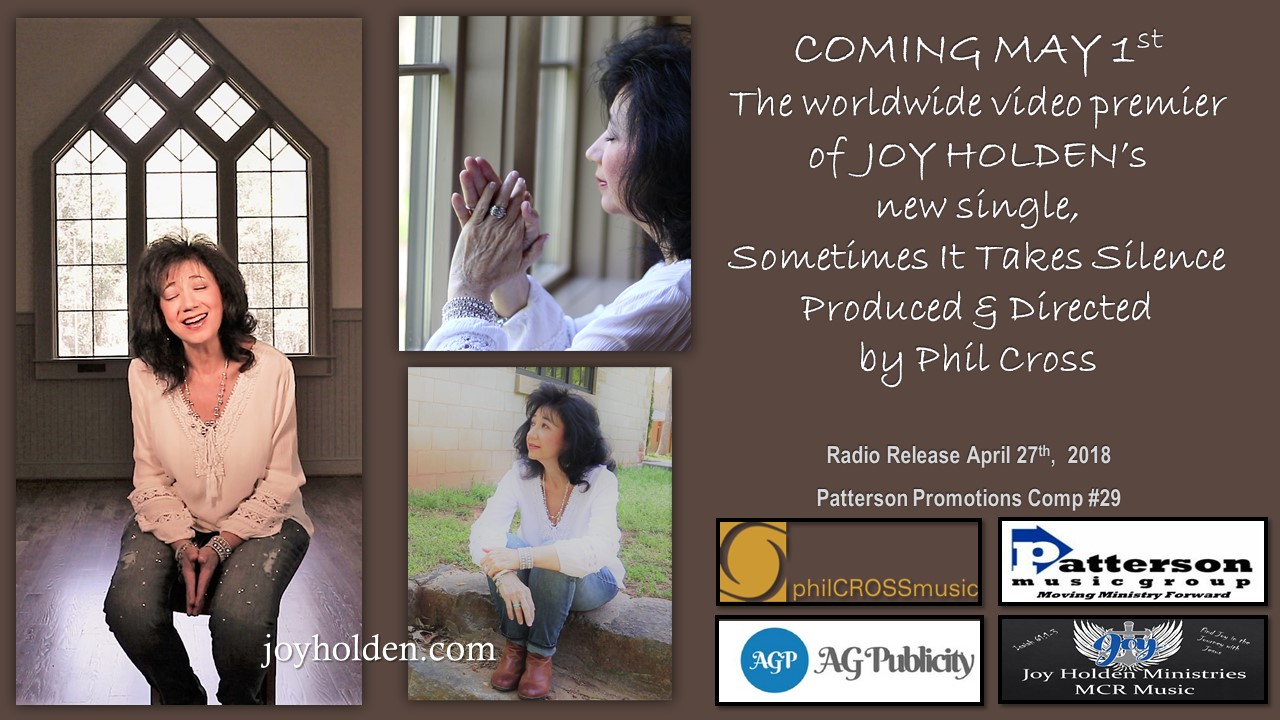 April 19, 2018
JOY HOLDEN MINISTRIES OFFICIAL:
What You've Got – Joy Holden
Hey everyone. It's here! Thursday, April 19th, 2018 and it's the DAY of the premier of JOY HOLDEN's, new video "WHAT YOU'VE GOT." From the new album, As Long As You Breathe – Joy Holden. We are so excited to share this testimony. The video was Produced and Directed by the extraordinary Phil Cross, who is a multiple award winning Christian songwriter, artist and producer. We are privileged to share with you and ask you to listen and watch - then please share/like/follow/stream/buy this music.
As, Joy stated in a recent interview, "The inspiration for this song, came from a missionary friend of mine, whose life's work has been to share the walk and talk of Jesus Christ with others, always. She fully surrendered her entire life and being to God. I wish there were more people like her. Her influence on people is enormous, though she is very humble. She's always shown a special connection (a real relationship) with God that made me realize years ago – that I can be in a genuine relationship with God. Not just a deity to pray and bow too. He actually loves us beyond measure and wants us to succeed if we put Him at the center of our lives." Her story allows people to see that she (reflects God's being through her actions, words, eyes, smile) and is a best friend with Jesus and has a day to day relationship. Thus, urging others to seek and say (I Want Some Of) What You've Got. And, how do I get that? What does it cost? What do I have to Pay? TELL ME ABOUT IT!
"This song took many years to finish. Not sure why, other than God wasn't ready – I take that back, I wasn't ready, so he waited on me! The best is truly YET TO COME! Says, Joy Holden. "
April 12, 2018
Joy Holden shoots two new videos with famed Producer/Director and Dove Award Winner, Phil Cross
"What You've Got" and "Sometimes It Takes Silence" (stay tuned for release date)!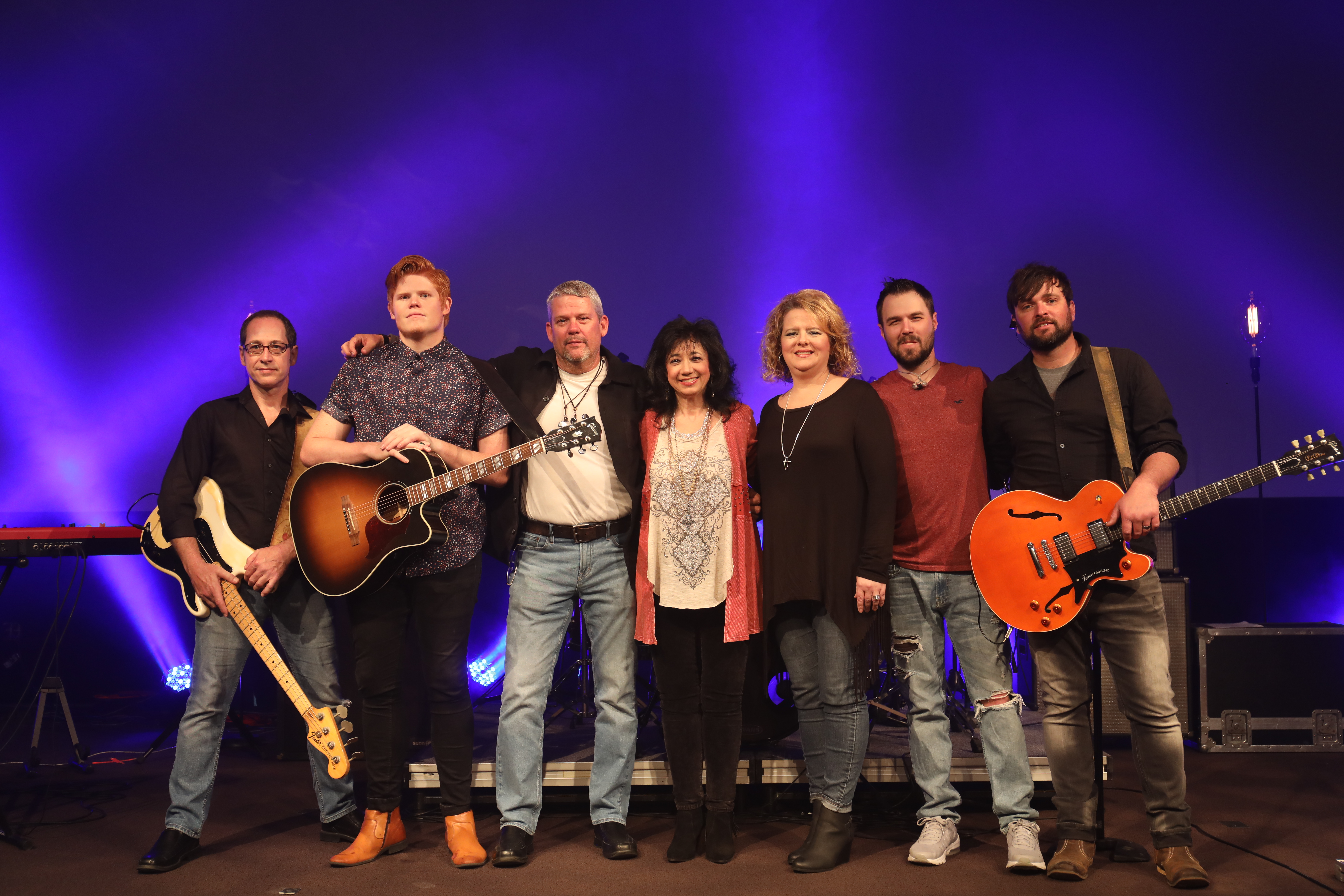 March 19, 2018
Joy Holden signs on as a client of Nashville public relations firm, AG Publicity! Congrats JHM Team!
http://www.agpublicity.com/joy-holden.html
February 16, 2018
Check out our MP3 (Healer In The House) and album listing on the great Absolutley Gospel Magazine!!
http://www.absolutelygospel.com/agm/
Check us out this month on Southern Gospel Times as we launch our new album and first single, Healer in The House!
http://www.southerngospeltimes.com/NewsDetail.aspx?id=44230